Margaritas On Tap
Rita's  famous margarita  
16

oz

– $7  •  20

oz

– $9  •  to-go – $8
Our house-made blend served on tap
Add a flavor of your choice (+$1): blueberry, raspberry, coconut, blackberry, peach, habanero, wild berry, watermelon, yuzu, blood orange, spicy sangria, pomegranate, chipotle pineapple
Corona Rita – $9

Our 20 oz margarita on tap served with a 7 oz Coronita
Beer Rita – $8

Our margarita on tap with a splash of Stone Buenaveza.
MARGMOSA – $10

Exotico blanco and orange juice topped with a 6 oz bottle of Champagne.
mucho grande Rita – $21

Our house margarita on tap served in our 56 oz glass. Add a flavor for $3!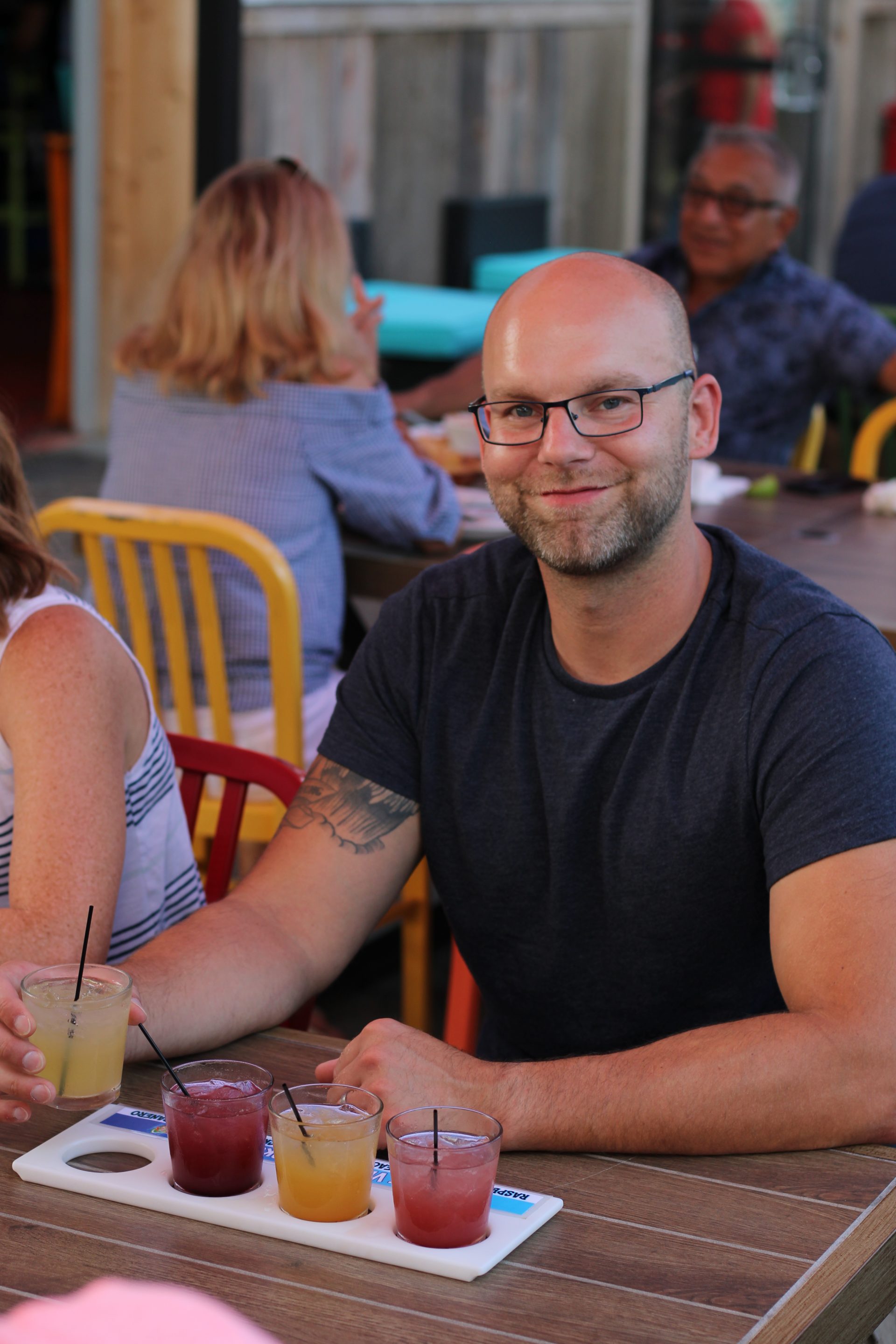 Signature Ritas!
el patron Rita – $13
Patron, Dekuyper 03, simple syrup, lime, Grand Marnier float
chiquita Rita – $8

Exotico Blanco, Dekuyper 03, lime
spicy Rita – $9

Exotico Blanco, jalapeño, pineapple, simple syrup, lime
Signature Cocktails
Moscow mule   –   $8
Titos Vodka, ginger beer, lime
Exotico Blanco Tequila, ginger beer, lime
Add a flavor of your choice for $1: mango, strawberry, blueberry, raspberry, coconut, blackberry, peach, habanero, wild berry, watermelon, yuzu, blood orange
COLADA RITA  –   $9

Terramana Blanco, pineapple juice, coconut, simple syrup
something blue –   $8

Coconut Rum, Pear Liqueur, Blue Curaçao, lime, cinnamon honey syrup
SPICY SUNRISE  –   $8

Terramana Reposado, peach purée, habanero, lime, ginger beer
peach Driver  –   $7

Titos Vodka, orange juice, peace purée
BLUSHING YUZU  –   $8

Smirnoff Tamarind, pomegranate, yuzu, lime, sprite
roja sangria   –   $7
Our house sangria with fresh fruit
strawberry daiquiri   –   $9
Rum and frozen strawberry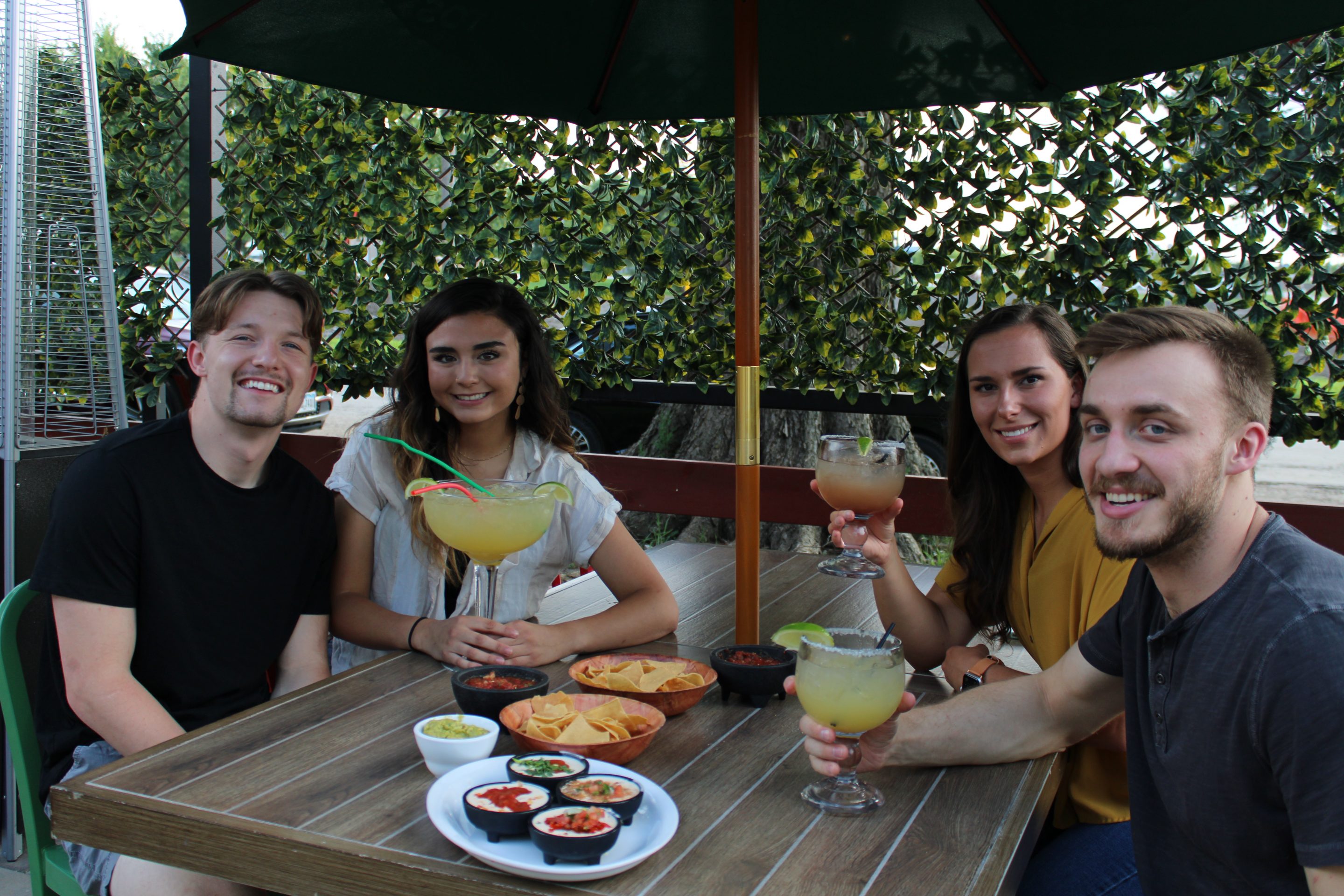 Frozen Drinks
16oz – $7  •  20oz – $9  •  56oz – $21
Frozen Lime Margarita
Frozen Strawberry Margarita
Frozen Mango Margarita
Swirl-Rita
1/2 Mango, 1/2 Strawberry
Flights
Get one of our margarita flights!
Frozen Flight – $12
Frozen lime, mango-swirl, strawberry, blueberry
Midwest sunset Flight – $12
Wild berry, watermelon, blood orange, yuzu
Fiesta Flight – $12
Lime, strawberry, mango, blueberry 
East Village Flight – $12
Raspberry, peach, blackberry, habanero
TROPIC LIKE IT'S HOT – $12
Pomegranate, spicy sangria, chipotle pineapple, pina colada
To-go Flight – $28
Get our Midwest Sunset, Fiesta, Tropic Like It's Hot, or East Village Flight in our 12 oz. to-go cocktail pouches to take home to share and pour over ice!
Blanco
Patron
Don Julio
Casa Noble
Terramana
1800
Milagro
El Jimador
El Mayor
Exotico
Reposado
Casamigos
Don Julio
Patron
Cazadores
Corralejo
Terramana
Jose Cuervo
Milagro
El Jimador
El Mayor
Exotico
Anejo
Don Julio
Cabo Wabo
Correlejo
Mezcal
Monte Alban
Drafts
Big Grove Easy Eddy • NEIPA • ABV 6.0%
16

oz

– $6  •  20

oz

– $8
Blue Moon Belgian White • Wheat • ABV 5.4%
16

oz

– $6  •  20

oz

 – $8
Busch Light • Light Lager • ABV 4.1%
16

oz

– $4  •  20

oz

– $6
CARROLL Rita's lime lage • light lager • ABV 4.2%
16

oz

– $6  •  20

oz

– $8
COORS LIGHT • LAGER • ABV 5.0%
16

oz

– $4  •  20

oz

– $6
Corona premier • lager • ABV 4.0%
16

oz

– $6  •  20

oz

– $8
Confluence des moines ipa • IPA • ABV 6.9%
16

oz

– $6  •  20

oz

– $8
dos equis ambar • lager • ABV 4.7%
16

oz

– $6  •  20

oz

– $8
Dos equis lager especial • lager • ABV 4.2%
16

oz

– $6  •  20

oz

– $8
Exile Ruthie • American Lager • ABV 5.2%
16

oz

– $6  •  20

oz

– $8
MICHELOB ULTRA • LIGHT LAGER • ABV 4.6%
16

oz

– $4  •  20

oz

– $6
modelo especial • lager • ABV 4.5%
16

oz

– $6  •  20

oz

– $8
modelo negra • dunkel-style lager • ABV 5.4%
16

oz

– $6  •  20

oz

– $8
pacifico clara • lager • ABV 4.5%
16

oz

– $6  •  20

oz

– $8
Cans/Bottles
Bud Light • Light Lager • ABV 4.2%
12oz

– $4 
BUDWEISER • Lager • ABV 5.0%
12oz

– $4 
Coors Light • Light Lager • ABV 4.2%
12oz

– $4  
Corona extra • Lager • ABV 4.6%
12oz

– $5   
Michelob ultra • Lager • ABV 4.2%
12oz

– $4
miller high life • Lager • ABV 4.6%
12oz

– $4
Miller Light • Light Lager • ABV 4.2%
12oz

– $4 
SOL • American Lager • ABV 4.5%
12oz

– $5
SOmo spritz • wine spritzer • ABV 7.0%
12oz

– $6
TECATE • American Lager • ABV 4.5%
12oz

– $5  
white claw – black cherry or mango • hard seltzer • ABV 5.0%
12oz

– $5  
Temporarily Closed until Spring of 2022
KITCHEN HOURS
Temporarily Closed until Spring of 2022